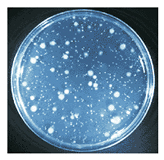 Sound Microbiology Laboratory (SML) can test and analyze Heterotrophic bacteria by performing Heterotrophic Plate Counts (HPCs). Heterotrophic bacteria are loosely defined as all metabolically active organisms that grow on a variety of general growth media at a specific incubation temperature and time period. For those involved in the drinking water industry, HPC measurements have proven their significance in maintaining drinking-water quality standards (see a World Health Organization article addressing HPCs and drinking water). In addition to bacteria, yeasts and molds are other organisms that may grow in an HPC analysis.
The types and numbers of organisms that grow vary widely depending on the media used, inoculation method and incubation temperature and time.
Contact Sound Microbiology Laboratory to determine what sampling procedure(s) and analysis method(s) are required to provide the best data to answer your question.
Types and Amount of Sample to Collect:
Water
—Potable Water: 120-480 ml in sterile polypropylene bottle containing 0.1 ml of 3% Sodium Thiosulfate per 120 ml of sample
—Non-potable Water: 10-100 ml in sterile polypropylene bottle
Surfaces
–Swab: Use a pre-moistened swab. Measure and record the area to be sampled. Return to the swab to the original container and ship to the laboratory.
Bulks
—Swab: contact us for more information.
–Soils: Collect 10 – 100 grams of material using a sterile sampling spoon. Place the material into a sterile polypropylene bottle or sterile plastic bag.
Shipping Requirements:
Maintain samples below 4 degrees Celsius but do not freeze. Ideally samples should be delivered to Sound Microbiology Laboratory (SML) in 6 hours and should not be received more than 18 hours after collection to meet regulatory requirements.
Turn Around Time:
Typically 5-7 days, depending on incubation requirements.
Request a quote: simply contact us.
Become a client: register as a new client by completing our New Account Form.

For registered clients, submit samples: download and send us a completed Chain of Custody form.