Timely and Accurate Results
For Drinking Water Analysis samples delivered to the lab by noon, you can expect secure email results by the end of the next business day, once payment has been processed.
SML is working with the Washington State Office of Drinking Water to set up a system for electronic delivery of data, allowing for quick regulatory reporting of results or resolution of previously unsatisfactory samples.
Custom Reports
We know that each client has unique reporting needs. Once we complete your analysis and obtain your project's lab results, we put together a clear, concise and easy-to-interpret report that we can email, fax or send to you in .pdf or hard-copy format.
We archive all reports for a period of six* years and you can access your reports anytime during the archival period. Please contact us to discuss additional report formats or data requirements.
Sample Reports
Click on the sample reports below for a closer look. Featured sample reports include Legionella (Premium and Standard), Drinking Water (Summary and Sample Detail) and Actinomycetes Cultures.
Legionella Premium Report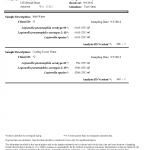 Legionella Standard Report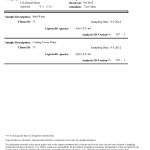 Drinking Water Analysis Summary Report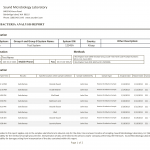 Drinking Water Analysis Sample Detail Report
Actinomycetes Standard Report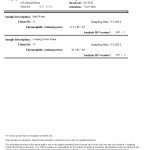 *Please see our Terms of Service for further details.
Return to our Services page