Maintaining Clean Water Through Surface Water Testing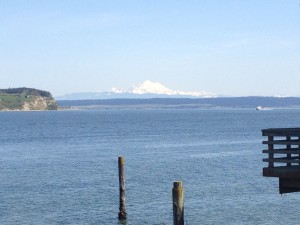 Much of our water comes from rivers, lakes and other surface water sources, and it is important to test water quality to ensure its safety. Sound Microbiology Laboratory is accredited by the Washington State Department of Ecology for the analysis of streams, lakes, beaches and other Surface Waters from both marine and freshwater environments for the enumeration of Total Coliforms, Fecal Coliforms and E. coli.
For more information about how to submit your samples, see our Submit Samples page.
Collecting Raw Water Samples
Collect samples in sterile polypropylene or other approved sample containers with leak-proof lids. The amount of sample required will depend on the type of water tested and weather conditions. If you have any questions or don't have the proper container contact SML at 206-842-2143.
When the sample is collected, leave ample air space in the bottle (at least an inch) to facilitate mixing by shaking.
Take samples from a river, stream, lake, or reservoir by holding the bottle near its base in the hand and plunging it, neck downward, below the surface. Turn bottle until neck points slightly upward and mouth is directed toward the current. If there is no current, as in the case of a reservoir, create a current artificially by pushing bottle forward horizontally in a direction away from the hand. Take precautions to avoid contact with bank or stream bed; otherwise, water fouling may occur.
When sampling from a boat obtain samples from upstream side of boat. If it is not possible to collect samples from these situations in this way, attach a weight to base of bottle and lower it into the water.
Dispersion of wastewaters into the receiving stream may necessitate preliminary cross-section studies to determine completeness of mixing. Where a tributary stream is involved, select the sampling point near the confluence with the main stream. Samples may be collected from a boat or from bridges near critical study points. Choose sampling frequency to be reflective of changing stream or water body conditions.
Holding Time
Surface water samples need to be delivered to the laboratory within 6 hours of collection.
Storage Temperature and Handling Conditions
Ice or refrigerate water samples at a temperature of 1-4°C during transit to the laboratory.
Use insulated containers to assure proper maintenance of storage temperature. Take care that sample bottles are not totally immersed in water from melted ice during transit or storage.
SML will only test samples that meet the sampling collection and transportation minimum requirements listed above.